Visit Eilat

King Solomon's Port and Israel's Red Sea Riviera
When Solomon built his port of Ezion Gaber here (1 Kings 9:26; 2 Chron. 8:17), in all his wisdom he could never have imagined that 3,000 years later it would offer everything from snorkeling and diving off its coral reef, parasailing, hikes, camel and Jeep treks into the desert. The Eilat Tour is a true vacation. The City of Eilat, where the russet mountains of the southern Negev give way to the azure Red Sea, has become a getaway for visitors the world over as well as Israeli families and young people.
The City of Eilat...has become a getaway for visitors the world over
Getting there is a fascinating journey full of biblical meaning: On the drive through the Arava Valley (Deut. 1:7), you'll revel in the miracle of Israeli arid-land agriculture that has turned the desert green (Isa. 35:1), see ancient Egyptian copper mines and the magnificent Solomon's Pillars in Timna Park, as even a full-size model of the Wilderness Tabernacle (Ex. 25-26).
Hotels for every pocketbook await, including those fit for a queen (of Sheba, that is - after all, this is where she disembarked when she visited Solomon) along with all-around fun in the sun! There's no better place to wind down after your Holy Land experience than touring Eilat, where you will make new Israeli friends you'll remember forever.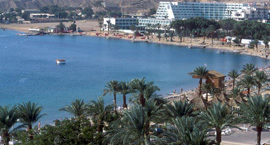 Photo: Eilat