Banias (Caesarea Philippi):

Feeling the Power of the Rock
You'll always remember the deeply moving spiritual experience you found at Banias, or - as the Bible calls it Caesarea Philippi - combined with the splendors of nature. Here, the sparkling Banias Spring, the far-north headwaters of the Jordan River, emerges at the foot of snowy Mount Hermon (Deut. 3:8, Ps. 89:12, 133:3)
As you tour Banias, the cliff on which the ancient city stood is ever-present.
It was here, where the Greeks worshipped the goat-god Pan and Herod the Great built a shrine to Augustus, that Jesus asked the disciples the fateful question: "Who do people say the Son of Man is?" (Matt. 16:13), prepared them for Jerusalem and called Peter "the rock" (Matt. 16:18) on which he would build his church. Jesus was speaking of a spiritual rock, but as you
tour Banias
, the cliff on which the ancient city stood is ever-present. It is the backdrop for your
Banias tour
, where you will see remnants of Herod's shrine, embellished by his son Phillip (Luke 3:1), as well as other ruined idolatrous temples
and feel
the contrast with Jesus' message. As you walk along the swiftly flowing
Banias River
to its roaring waterfall, you'll realize that the Promised Land is indeed one of "streams and pools of water, with springs flowing in the valleys and hills" (Deut. 8:7).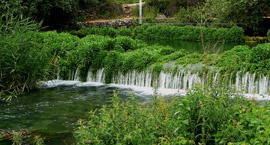 Photo: The Banias River